Published June 13, 2018
Disabled US Air Force Veteran Finds Courage at the Summit to Pursue Her Dream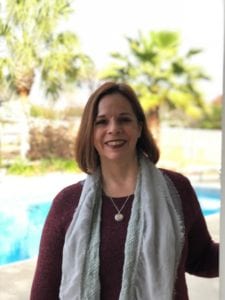 Before attending The Global Leadership Summit in 2017 for the first time, Joanie Dickson, disabled US Air Force veteran, was deeply discouraged. Her PTSD has often attacked her confidence and paralyzed her journey in pursuit of her dreams, even to the point of attempted suicide.
But attending the Summit changed her life.
"The Summit helped guide me back on a path toward my dream to be a motivational speaker, and help others who've also experienced the horrors of abuse and hardship in their past," says Joanie. "The Summit reignited my pursuit of seminary training, which I had put aside. Thanks to the Summit, I recently finished my Master's in Divinity, have begun laying out a book about redemption, and also got back into mission ministry.
"Though I sometimes still feel insecure and unqualified about my abilities, I want to put forth my message for others – It's not about me, but a message of hope. The Summit gave me courage to press on, even in the midst of fear. I'm pursuing my dream in strides now because of the Summit."
If Joanie had not attended the Summit and pursued her dream, abuse survivors and others struggling with PTSD would be missing her message of hope!
"God let me live when he didn't have to, even after all my attempts to end my life," says Joanie. "God had a plan for me. If I hadn't been to the Summit, I wouldn't have been reignited to organize a fundraiser for Heroes to Heroes, which has led to being asked to get involved with a homeless shelter for female veterans. I'm also considering joining a local police department's chaplain's group. I'm praying my PTSD can handle this."
Joanie has a message to those who may be on the fence about attending the Summit this year. "Trust the positive nudges within, and push away the negative ones," says Joanie. "I promise that once the Summit is over, your energy and motivation will be ramped up!"