Lies Leaders Believe: Authentic Relationships
Published March 14, 2017
I'd seen the headlines. I'd watched the interviews.
With every moral failure in the life of a Christian leader, I'd inwardly wince and wonder, "How did they let this happen to themselves?"
And then I found out.
I had been doing life and local church ministry with a core team of people for thirteen years. One morning, I woke up to the reality that two of our senior leaders were involved in an inappropriate relationship. I loved these people. I was shocked senseless.
Over the years, these two people had played invaluable roles in my life. They had loved me, served me, coached me; they had received my confessions, counseled me through mistakes, and consistently supported me. In short, they had helped me become a better version of myself.
I had thought I was doing the same for them.
The reality was that there were aspects of their lives in dramatic disrepair, threatening the destruction of their integrity, their families and their ministries. They had been seduced by lies – the ringleader of which was, "No one is strong enough to handle the truth of what's happening in my life."
In the bitter wake that followed the revelation, my sense of betrayal gave way to a deep grief over what had happened to my friends. They were drowning. But they wouldn't let anyone close enough to help them.
Sadly, they aren't alone. The lies my friends heard are the lies many leaders are listening to right now.
I know myself.
The truth is…your blind spots will blindside you. If you don't have someone who has permission to help you see yourself as you truly are—not as you want to be seen, or "must" be seen by those you lead—your blind spots will eventually catch up with you. But instead of a slow, merciful uncovering at the hand of someone who cares about you, they will likely be exposed in jarring, embarrassing confrontation.
This isn't the right time to bring this up.
The truth is…the cost will only rise with time. If you are caught in some kind of self-destructive or sinful behavior, the longer you wait to be honest, the higher the price you will pay. Each day you wait prolongs the time it will take for people to trust you again, particularly those whom you love the most. There will be nothing good gained by delay. You can't control the outcome, but there will be less damage right now than if you wait any longer.
No one understands my life.
The truth is…you are not the exception. Whatever reason you claim—especially if it is connected to "leadership"—rest assured, you have been sold a bad bill of goods. This need for real, honest, life-giving connection is a part of what it means to be a human being. Leadership will offer many opportunities to make you believe you are the exception. Don't get suckered into this one.
It's just too difficult to find someone I can be honest with.
The truth is…the work is worth it. There's nothing about finding, maintaining and growing a deep, personal connection that comes easy when you're a leader. The incessant demands on your attention and the limitless supply of needs will never make it convenient. But the hard work now bypasses a different kind of unavoidable, gut-wrenching work later.
A Personal Word to Pastors
 Finally, I just want to share a personal word with pastors. I realize your position as a spiritual leader—one that typically is the source of your livelihood and income—is on the line when it comes to full disclosure to another human being. I've sat in that seat as a lead pastor, and I understand that sometimes the price of honesty seems too high.
If I could speak to you, friend to friend, I would beg you to recognize that you follow the One who is always on the side of the Truth. If you would ally yourself with Him and dare to trust what He says about the primacy of Truth, then no matter what happens next, you will find yourself standing on the solid ground with Him. You will not be alone and you will not be fending for yourself.
You will find mercy in the place you need it most. I believe you will find that a real connection with another human being creates room for a real connection with a strong, capable God who loves you. You trusted Him enough to give Him your heart once—why would you withhold it from Him now?
If we say that we have fellowship with him while we are walking in darkness, we lie and do not do what is true; but if we walk in the light as he himself is in the light, we have fellowship with one another, and the blood of Jesus his Son cleanses us from all sin. (1 John 1:6-7)
Never miss an inspiring leadership insight or the latest leadership news!
About the Author(s)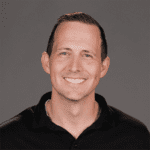 North Campus Pastor
Justin has been involved in leadership development in a variety of ways over the last 15 years—in pastoral ministry at Gateway Church in Austin, Texas, and Quest Community Church in Lexington, Kentucky. Additionally, he was on staff at the Global Leadership Network as a Field Team Director where he worked closely with hundreds of senior pastors, church staff and organizational executives to grow the impact of the Global Leadership Summit in their communities. He now leads civic leadership development with young professionals and corporations as the Director of Learning and Engagement at Leadership Austin. He and his wife, Courtney, along with their three boys, call Leander, Texas their home.